Gallus Guide Dogs
At Glasgow Gin, we regularly receive requests for sponsorship and products to be raffled off for charity.
While we know every cause is worthy, it's simply not possible to help everyone. So instead, we've chosen to support a single charity that's close to our hearts – Guide Dogs Scotland.
We know you'll understand that by focusing our efforts on just one cause, our donations will have a more significant impact.
That's why we're supporting the charity's puppy scheme, helping them to train a dog and transform the life of someone living with sight loss.
Our puppy, named Duke (what else!), was born on 1st December 2020 along with his siblings Gorby, Jamie, Ludo, Theo, Bill, Sylvia, Lucy, Hazel and Marnie.
We'll be posting regular updates of Duke's progress right here on the site, see below!
In the meantime, if you'd like to donate to Guide Dogs Scotland or even volunteer, please click below.
Dukes Pupdate No. 1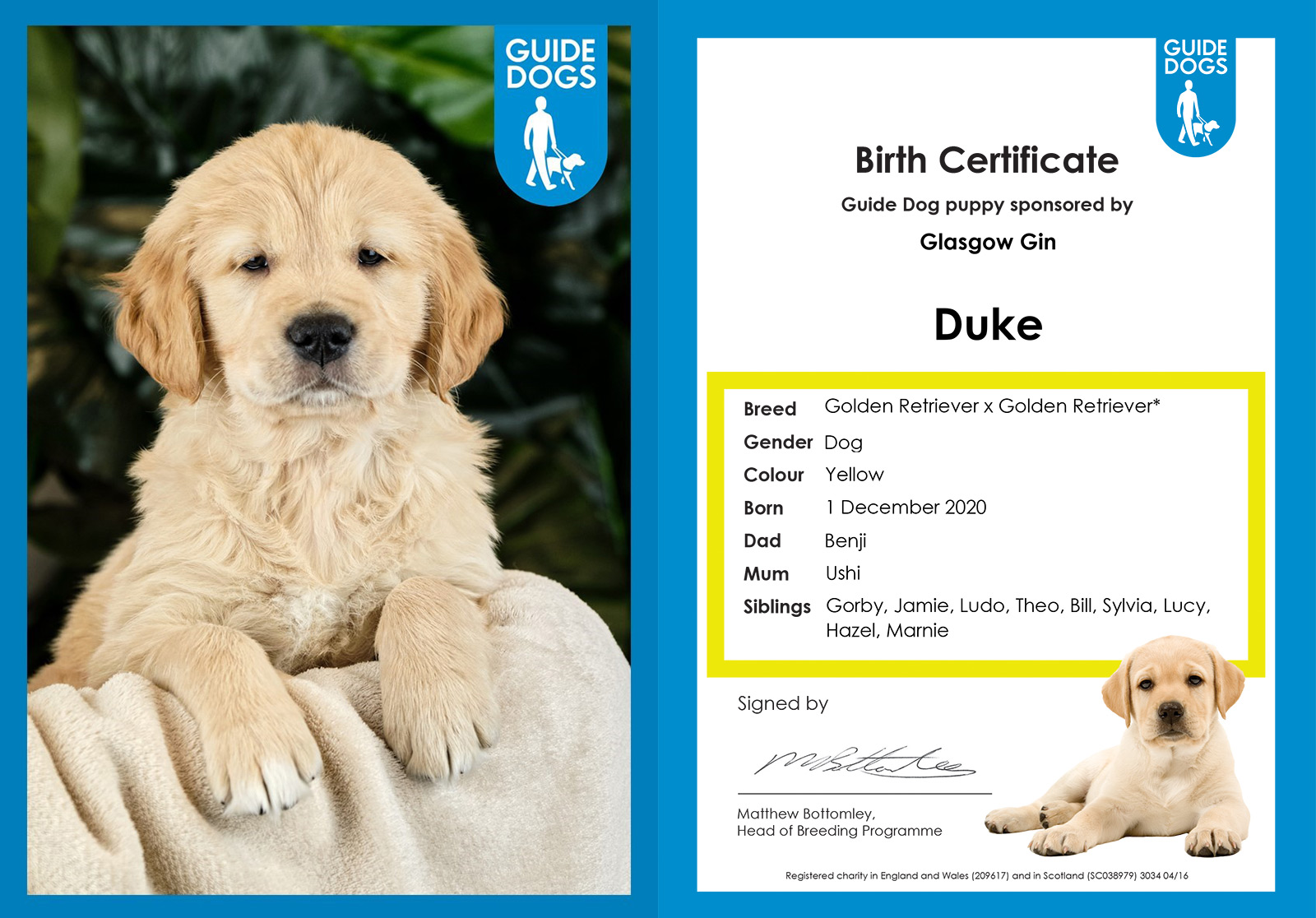 Duke has been living with his Puppy Raiser, Margaret, for a little while now, so we caught up with Margaret to find out how things are going.

Many Puppy Raisers have a few sleepless nights when their pup first arrives, as puppies can sometimes be a little unsettled in a new environment. However, Margaret told us that Duke is 'an absolute star' and has slept right through the night since he arrived. He sleeps in a cosy puppy crate and snuggles up to a large cuddly elephant every night.

One of the first things pups need to master when they move to their new home is toilet training. They are encouraged to respond to the 'busy' toileting prompt, which is taught to all guide dog pups and is designed to encourage 'spending' in appropriate areas. It can take a while for some pups to get the hang of this, but we are pleased to report that Duke is making excellent progress and hasn't had any accidents indoors for a couple of weeks now. Well done, Duke!

Margaret has begun introducing Duke to some basic obedience commands, such as 'sit', 'down' and 'stay', and Duke is picking things up really quickly, especially when there is a food treat as a reward – he does what's asked of him with his tongue hanging out, almost dribbling! Another important aspect of a guide dog pup's early training is to familiarise them with different modes of transport. Duke has started with car travel, which he wasn't sure about at first, but he quite likes it now and is always excited to discover where their journey has taken them.

'Duke is so gorgeous, people even stop their cars to say hello to him', Margaret told us. She also said that he's a funny pup, who sits and waits patiently for his blow dry when Margaret is drying her hair, and he also loves to watch television!

We think that Duke sounds like a wonderful, bright little puppy who has got off to a great start with the early stages of his training. We hope you've enjoyed reading his first pupdate, and we look forward to getting in touch again soon with a report card from his Puppy Development Advisor.